Michael Love, WB8YKS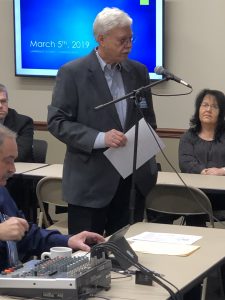 Left to Right Michael Love, WB8YKS SOARA PIO, Commissioners: Freddie Hayes, Jr., DeAnna Holiday and Dr. Colton Copley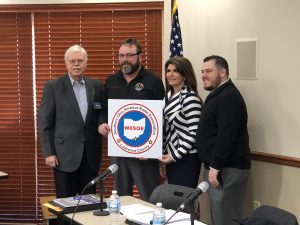 The following is the agenda that was presented to the Lawrence County Commissioners by Michael Love, WB8YKS on March 5, 2019 during their meeting at the Lawrence County Chamber of Commence South Point, Ohio.  The meeting was aired live on Facebook and can be viewed on their Facebook site at Lawrence County Commissioners.  All requested items in the agenda were approved.  
The Southern Ohio Amateur Radio Association, Inc.
A Nonprofit Ohio Corporation and ARRL Special Service Club
P. O. Box 4684
Ironton, Ohio 45638
"Dedicated to community service through amateur radio"   www.w8soe.org
March 5, 2019
Lawrence County Commissioners Regular Meeting, 10:00 AM
Location: Lawrence County Chamber of Commerce
South Point, Ohio
Agenda Item
Michael Love, WB8YKS
SOARA / ARES
Ohio Section
Public Information Officer
(304) 638-7338
WHO:
The Southern Ohio Amateur Radio Association (SOARA) and the Lawrence County, Ohio, Amateur Radio Emergency Service (ARES) will be the event organizers.
WHAT: 
"Ohio Courthouses on the Air" 
SOARA and ARES are requesting the use of the Lawrence County Courthouse lawn on Saturday, August 24, 2019, 9:00 AM to 4:00 PM to set up and operate an amateur radio special event station for the public's view and participation. The radio station will be part of an Ohio satewide amateur radio event in all 88 of Ohio's counties celebrating the history of their respective courthouses. We envision partnering with county officials, local government, Chamber of Commerce, Historical Society, EMA and other emergency services. There may be people dressed at the event in attire representing the 1800s and presenting history about the courthouse to the public. The news media will play an important role in reaching out to the public about the event and the rich history about the Lawrence County Courthouse. This will provide positive publicity for Lawrence County in general. Additionally, special event QSL cards and/or certificates will be available for the amateur radio operators who contact the Lawrence County Special Event Station, W8SOE. Although this is titled Ohio Courthouses on the Air, Lawrence County will be contacted by radio operators from all over the United States and other countries.
The special event station will allow for emergency training for SOARA / ARES members in setting up and operating the amateur radio station, in field-like conditions, which would be the case in a real disaster.
SPECIAL REQUEST: We are also requesting that Saturday, August 24, 2019, be declared Amateur Radio Day in Lawrence County coinciding with the Ohio Courthouses on the Air special event.
This is an Historical Fun-Filled FREE Event 
WHEN: 
Saturday, August 24, 2019, 9:00AM to 4:00 PM. 
WHERE:  
Lawrence County Courthouse lawn Ironton, Ohio  
NOTE: This is a rain or shine event. Therefore, we will be setting up a tent to house the electronic equipment.  
Event Logistics:  
SOARA / ARES members will work closely with the assigned courthouse staff for setup requirements, grounds location, power, etc. all to ensure a safe event.