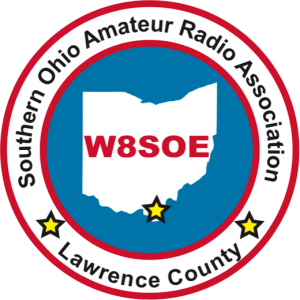 The Southern Ohio Amateur Radio Association, Inc.
A Nonprofit Ohio Corporation and ARRL Special Service Club
P. O. Box 4684
Ironton, Ohio 45638
"Dedicated to community service through amateur radio"   www.w8soe.org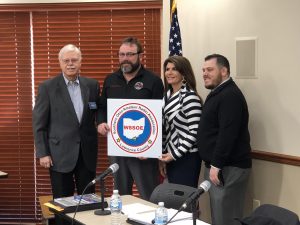 PRESS RELEASE
IRONTON, OHIO – August 8, 2019
The Southern Ohio Amateur Radio Association (SOARA) and the Lawrence County Amateur Radio Emergency Service (ARES) members will participate in the Ohio Statewide Courthouses On the Air Special Historical Event, August 24th.
The SOARA members will join with other amateurs across Ohio where several radio clubs are celebrating their own county's courthouse history. A special radio event station will be set up at the Lawrence Courthouse on the corner of Park Avenue and 5th Street in downtown Ironton from 9:00 AM until 4:00 PM. Amateurs will be operating radio equipment that will allow contacts to be made not only across Ohio but throughout the United States and countries around the world. The radio station will use the SOARA's club FCC call sign, W8SOE.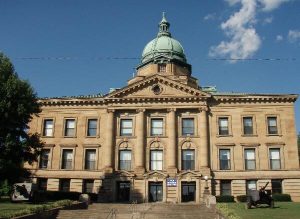 Event Background
Last year there was the Ohio Covered Bridge Special Event located at Scottown., Ohio that SOARA participated in, and it was a total success. Additionally, there were several folks interested in Ham Radio at the event who have now become new Hams. This year in keeping with the historical event series, SOARA members joined with other radio clubs across Ohio to do a special event from their county's courthouse lawn. The Lawrence County Courthouse has a very rich history and one to be celebrated. Therefore, when a request was made to the Lawrence County Commissioners, they approved the request and issued a proclamation declaring August 24, 2019, as "Amateur Radio Day in Lawrence County in Conjunction with the Ohio Statewide Courthouses on the Air Special Historical Event.
Promoting Ham Radio
This event may be a first for the American Radio Relay League (ARRL) and the ARRL Ohio Section, Mike Love, SOARA Public Information Officer said. He went on to say, "This event has all the opportunities for a FUNFILLED family day engaging the public and our government officials. Additionally, the Lawrence County Museum and Historical Society, Emergency Management Agency, Sheriff's Office, Briggs Public Library, Chamber of Commerce, and news media will be partners. SOARA has decided to use a large tent as the event will take place rain or shine. A special focus will be made to spotlight the public awareness of the hobby and the benefits of a Ham radio license, emergency and community service. The public will be invited to talk on the radios under the direct supervision of an FCC licensed operator. A special certificate will be issued to all amateurs who contact SOARA, W8SOE. The certificates are intended to capture this special historical event.
Emergency Preparedness
Eddie Jenkins, N8URU Lawrence County Amateur Radio Emergency Service Coordinator said, "The special event station will mimic emergency conditions which would be required when there is a total communications failure of telephone, commercial radio, television, cell phone, and web access due to devastating weather, earthquake and wildfire conditions." When all else fails, there is amateur radio.
Fun for Everyone
Members of the Lawrence County Museum and Historical Society will be dressed in 1800's clothing and will be providing information about the history of the Lawrence County Courthouse from the first County Seat located at Burlington, Ohio, to today's courthouse built in 1908.
Event Details
Yes, we are excited, and hopefully you are as well, about attending / participating in this historical Ohio Courthouses on the Air Special Event, said James Rowe, N8TVO a SOARA member. He also said, "We are requesting ALL Ohio Clubs and Hams to consider supporting this special event. The event will take place on, Saturday, August 24, 2019, from 9:00 AM to 4:00 PM. However, the hours can be extended by each club. Additionally, each club will determine the frequencies and modes they will use."
Another opportunity presents itself as the Ohio QSO Party www.ohqp.org is also on the air, Saturday, August 24th. Therefore, these two events will complement each other providing contacts not only from within Ohio but across the country. All Hams and the public are invited to this FREE event.
Contact for additional information:
Michael Love, WB8YKS
wb8yks@arrl.net
Cell 304-638-7338