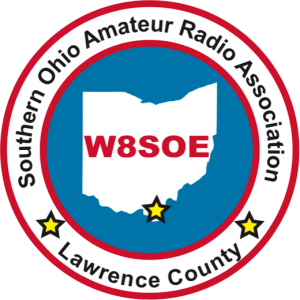 The Southern Ohio Amateur Radio Association, Inc.
A Nonprofit Ohio Corporation and ARRL Special Service Club
P.O. Box 4684
Ironton, Ohio 45638
"Dedicated to community service through amateur radio"   www.w8soe.org
PRESS RELEASE 
South Point, Ohio August 7, 2019  
For Immediate Release
"HAM Radio – From Across the Street to Outer Space," September 9, 2019, at The Briggs Lawrence County Public Library, Southern Branch 317 Solida Road, South Point, Ohio, 6:00 PM
Have you heard about "Ham Radio" but not sure what it is about? Did you know that amateur radios operators can communicate outer space? Are you interested in becoming a licensed amateur radio operator? What about serving the community by utilizing ham radio in emergencies and community events or talking with the astronauts onboard the International Space Station and with other hams around the world? Well, this is your opportunity to find out what Ham Radio and Amateur Radio Emergency Service (ARES) is all about. As a real plus, those attending the presentation will be invited to talk on the radios under the direct supervision of one of the FCC licensed amateurs.
The Southern Ohio Amateur Radio Association (SOARA) and Lawrence County, Ohio Amateur Radio Association Emergency Service (ARES) members James Rowe N8TVO, Eddie Jenkins N8URU, Mike Love WB8YKS, Annabelle Jenkins KB8TGI, Ken Massie WN8F and Arthur J. Pierson N8LRO will be the presenters. Additionally, the awarding winning world-famous news personality and FCC licensed radio operator, Walter Cronkite, KB2AGD (now deceased) will join us as he narrators the exclusive American Radio Relay League's (ARRL), "Amateur Radio Today" DVD.  
The presentation will focus on Amateur Radio Space Communication culminating on this summer's youth and adult reading program about out space, said Jan Gullet, Children's Librarian, Briggs Lawrence County Public Library Southern Branch. "We are very excited to showcase Amateur Radio here in Lawrence County, Ohio, with an enhanced look at amateur radio's role / capability of commutating with the space shuttle, satellites and moon bounce. Ham Radio is a very diversified hobby for all ages from the young to our senior citizens, for those who are highly technical and those who are interested in making friends around the world, Jan Gullet said.."
Eddie Jenkins, N8URU Lawrence County, Ohio, Amateur Radio Emergency Service Coordinator said," This Introduction to Ham Radio and ARES will provide background information and real emergency events where Ham Radio was relied on here in Lawrence County. The discussion will accent emergency conditions that would require the use of ham radio when there is a total communications failure of telephone, commercial radio, television, cell phone, and web access." Eddie went on to say," When All Else Fails, there is Amateur Radio."
Tim Nicely AC9VQ, President of SOARA said: "This a fun event that is open to the public (all ages from children to seniors) and encourages everyone who is interested in amateur radio and space communications to come out and experience and see firsthand what ham radio is all about and what happens during a communications emergency." Tim also said, "Brochures and handouts will be available about amateur radio at this FREE event."
Contact Information
Michael Love, WB8YKS
SOARA / ARES
Ohio Section
Public Information Officer
(304) 638-7338